Sport kite line sets and products…
At Shanti, we tie all of our linesets ourselves.  This means we are in complete control of the quality of the line and the precision of its production.  It also means that we can produce sets of any length or strength to meet the demands of flyers from 25 feet of 50 lb. dual line to 120 feet of 300 lb. over 200 lb. quad line.  If your supplier doesn't have what you need, ask him to call us.
Why is this important?  Beyond the inherent flight characteristics of a particular kite, nothing has more effect on how well your sport kite performs than the line you are using.  The first consideration is — are the lines the same length?  We think it's inexcusable to sell a line set that is not precisely measured so that you can fly with it immediately, without adjustment or tangles.  But time and again, we test the "free" lines that come with kites and they are not accurately measured, meaning before you can do anything with the kite you have to spend upwards to an hour adjusting lines.
It should also be obvious that a line with less stretch will cause the kite to react faster when you pull on one line or the other.  Perhaps less obvious is the fact that the diameter of the line creates "wind drag" on your kite effecting how it sits in the sky as well as how quickly it responds.  The lubricity of the line also effects how many twists you can put in your lines and still control it.  And one of the most important factors can only be measured over years of flying and that is how long do lines last?
Shanti Speed line has been used by 6 out of 7 World Cup Champions so performance is obviously unparalleled.  Ask anybody that flies Shanti Speed line and they'll tell you it outlasts anything on the market:  four to five times longer than other brand names.  Our Skybond line has only been on the market one year and has been getting rave reviews for its performance and we believe in the years to come it will also be appreciated for its longevity.
All of our Speed and Skybond line sets are tied with the same exacting standards that we tie line sets for World Cup competitors. We have one standard — the best we know how to make it.  This means dual and quad line sets are pulled out, visually inspected, pre-stretched, precision-measured +/- 1/8th inch, sleeved, double knotted and figure-eighted by hand.  It doesn't get any better than that.  No other company, anywhere in the world, can match our precise quality.  We haven't had a Speed line set returned for 10 years!
For flyers who want to tie their own line sets, our Crazy-8 winder (pictured above) offers an inexpensive and efficient way to wind multiple lines.  Its edges are rounded smooth so that you won't damage your line. Lines are easily secured with an elastic bungee cord.  Crazy-8 winders are available in assorted colors.
At Shanti, we make our own Contour Flight Straps, Padded Straps and our patented Adjustable Straps. Along with simple one-inch straps and finger straps, we can offer the flyer anything she wants.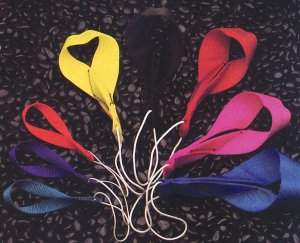 Our Contour Straps are sewn from the highest quality two-inch webbing we can find.  We fold this smooth webbing over and sew it so that it cups gently around the wrist giving flyers the strength and security they need for the strongest of winds.  These straps will last a lifetime.
For day-to-day flying Shanti is best known for our patented Adjustable Straps which allow a flyer to adjust her line lengths in a matter seconds.  This adjustment is made by sliding the adjustment buckle on one strap thereby shortening the length of one line.  This is great for beginners and also for use with poorly-measured line sets offered by our competitors.  These straps are sewn  with one-inch webbing and may also be purchased in a non-adjustable form.  And for the indoor flyer, we offer finger straps sewn of 3/4 inch webbing.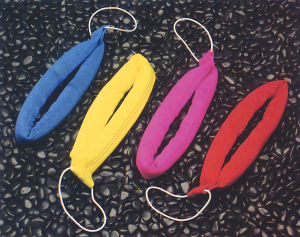 And for the guy who wants to get dragged down the beach, we offer our padded straps. Made of the same mountaineering-grade two-inch webbing as our contour straps, these straps are filled with foam for ultimate comfort.  We sew these so the foam will not slip or bunch making these straps equally comfortable around the wrists or simply hand-gripped for dear life.  (Remember if the kite is pulling too hard, simply let go.)  The kite is never as important as your health or the safety of others.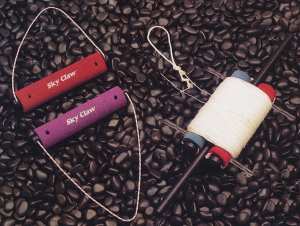 For you old-school flyers we still manufacture our Sky Claw ™ winders.  Our first patented product, the Sky Claw was invented before the use of straps and flat-winders.  This was the time of loop-d-loop flying, experimenting with trains and tube-tails…flying styles that still bring smiles today.  The Sky Claw foam-cushioned grips were the gold-standard of the day and are still preferred by many flyers who prefer to hold-onto their lines rather than have their lines holding-onto them.  Sky Claw handles fit onto the winder for quick, tangle-free rewinding.
In addition to the above we provide the kite industry with a full range of accessories for the sport kite flyer including:  Sleeving kits, Bridle line, Plastic handles, Bulk Spectra, Bulk Skybond, Bulk Kevlar and custom products.